Step 2: Finding your Model Number and Year of Tractor
Now that you have your sticker, match it with an image below and extract the information as shown in the examples.
Century Oils Sticker - Westwoods between 1983 - 1998
Year of Manufacture: 1985

Silver Tag Sticker - Westwoods before 2000
Model Number: T1500H
Deck Width: 36 inch
Year of Manufacture: 1994
Product Code: 8882
If you cannot find the year of your tractor, please use the following link and your model number to find the year - Click here

Standard Sticker - Westwoods after 2000
The date of the tractor is the first 5 digits read backwards, e.g. 27/07/07.
Year of Manufacture: 2007
Briggs and Stratton Engines - Finding the Year
If you're still having trouble identifying the year of your tractor, it can also be found from the engine. This is provided the tractor is fitted with a Briggs and Stratton Engine and it is the original engine.

On your engine look for the numbers as in the images below, they are likely to be located in the following places. Please note that if the numbers are not visible then we would recommend using a wire brush or scratcher and a torch to help uncover them.

Spark Plug Area
Starter Motor Area
Casing on the left hand side of the Engine

Please click here for help on where to find the Briggs and Stratton identification label for your engine, to determine the year of your machine.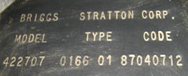 Year of Manufacture: 1987
Example: 422707 0166 01 87040712


Year of Manufacture: 1991
Example: 283707 0148 01 91101411

Year of Manufacture: 1994
Example: 129802-1415-01 94060858

Year of Manufacture: 2006
Example: 120T02-9263-08 06100556


Honda Engines - Finding the Model and Serial Number
Please use the images below to locate your engine label. Below is an example of how to identify the Model, Code/Variation and Serial number of your engine.

Model GX160 Code/Variation QX4 Serial GJAF1087423
Model GCV520 Code/Variation WEE1 Serial GAJM1398254
GX 120/160/200
GX 240/270/340/390
GCV 520/530
GXV 520/530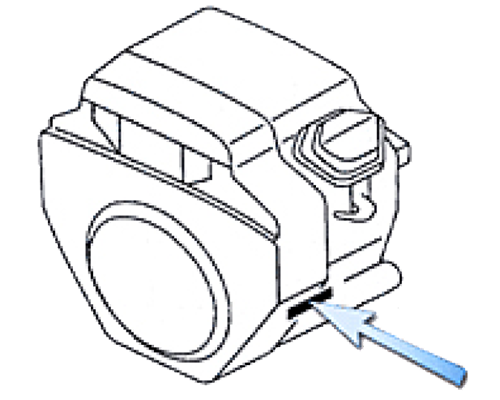 GX 610/620/6700
GX 100
GC 135/160
G 100/150/200
GC 135/160
GD 321/411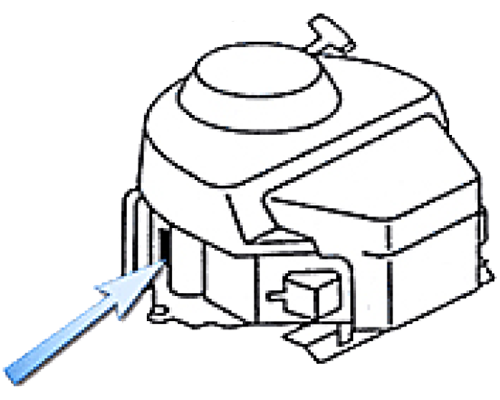 GXV 610/620/670
GX 22/31
GXV 50
GXV 160
GXV 270/340/390
Kawasaki Engines
Every Kawasaki engine is fitted with a unique label or etching for identification. This shows the engine 'Model', 'Specification' and 'Serial Number'. You will need these details if you require any parts of service information for your engine.
Two-Stroke Engine
Located on the engine cover behind the air filter cover or starter recoil.

Four-Stroke Engine
Located on the crankcase and/or the engine cover